THE 2016 RIDE
ROUTE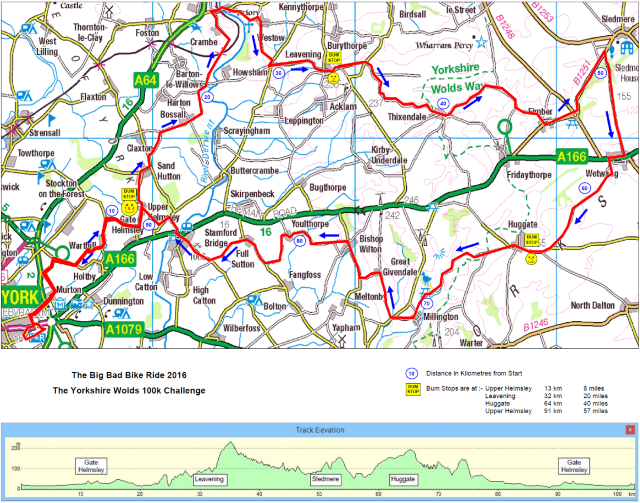 Download BBBR 2016
as a PDF
Click map to enlarge
The route is circular and ideal for road bikes (it's a bit slower, but not impossible on a Mountain Bike). It starts and ends at the York Sports Village next to York University.
Address: York Sport Village
Lakeside Way
York
YO10 5FG
Telephone: 01904 325751
Email: info@york-sport.com
Registration on the day will start from 8:00 am. You will be given rider ID. There will be a warm-up session at 8:30. It is recommended you take part and make your body feel in top condition.
We will start the ride at 9:00am prompt. Riders must be registered and ready to start at that time. We will start in groups if necessary, but the plan is to have one massive start. All riders must be on the road by 9:15 am. The ride is a 100 km challenge.
The ride is a 100km challenge.
There will be several Bum Stops chocolate (a sandwich at the middle stop) and psychological counselling. We will mark up the route and you will not need a map; a fully functioning brain will do. Unfortunately, people have forgotten to bring their brain in the past, so please make sure you pack it.
There will be no times or placing and consequently no need to speed, as safety is our prime concern. The very nature of this ride is to help others, so please do not take any unnecessary risks. The ride will be well marked and if you have difficulties, it is always best to walk forward as International Rescue will eventually scoop you up. If you get lost... we suggest you light a fire, make a bivouac and pray (this is where you might want to think about your religion).
Mobiles only work at certain points on the route, so those of you with gizmos that do everything for you... are completely stuffed. If we feel that anyone is taking too long and is creating a risk for others or tying up all our resources, we will either ask you to retire and get on our pick up truck or we will shoot you and inform your relations of your demise.
Seriously, you need to take on the responsibility of riding safely and not endangering others... Always try to stay with other riders or keep within sight of them. TOP TIP - find a riding buddy and stick with him or her.
All riders must finish by 4:30 pm.
THE COST
Only £49 per person. This is our administration and organisational cost. Any surplus goes into the kitty for the next ride.
This includes:
Entry to the ride
Administration and creation of your JUST GIVING page
Food & Drink at the Bumstops
A sexy riding jersey (unique) to make you look gorgeous
A motivational book by Fraser Kennedy to help you realise how important the charity is to people with ATAXIA. This will be posted to you.
A Winners Medal
A sense of purpose and a reason to be on the planet
HOWEVER... YOUR COMMITMENT
To take part in the Big Bad Bike Ride 2016, you must be committed to raising a minimum of £100 in sponsorship money. It's not a sportive; failure to raise the minimum will result in you being ostracized by your friends and render you unable to walk past mirrors without feeling a sense of guilt.
Our average rider usually raises in excess of £250. While you will obviously have a fantastic ride and come back with wonderfully toned muscles, extremely interesting new friends (and a sore bum); itrsquo;s important to keep in mind that this isn't just about us having a good time and making your body look beautiful.
It's about raising money for ATAXIA UK, and we don't take passengers.
We enrol humans who understand how much Friedreich's ATAXIA can affect people's lives, and want to try to make a difference.
If this describes you, then please sign up now.
Read about the ATAXIA UK Charity on their website.
We want to make it easy for you by automatically setting up a JUST GIVING page for you when your application is accepted. This is the way we prefer people to raise sponsorship money and all funds to be paid into your JUST GIVING account if at all possible. The charity gains an extra 25% from Gift Aid.
WE DO HAVE THE TRADITIONAL SPONSORSHIP FORM. BUT PLEASE SEND ALL DONATIONS TO OUR HEAD OFFICE. 01904 640096 FOR INFO.