ABOUT THE CHARITY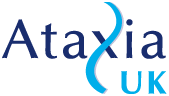 Ataxia means 'absence of order'. People with Ataxia have problems with co-ordination. There are many different forms of cerebellar Ataxia. Most are inherited. The most common in Friedreich's ataxia. This is a degenerative neurological disorder which usually becomes apparent in children only when they reach the age of 7 years and upwards. It attacks the central nervous system and by the age of 13 the child will be likely to have to use a wheelchair.
There is currently no cure and no treatment for Friedreich's ataxia and all the funds raised from the Big Bad Bike Rides have been and will be directed at research projects currently underway in the UK and Europe.
The Big Bad Bike Rides have minimal expenses and most costs are covered by the registration fee or by donations. This means that unlike most charitable fundraising events, every penny you raise goes directly to the charity and makes all the Bike Rides worthwhile.
I have a personal attachment to the charity as two of my four children suffer from Friedreich's ataxia. The funds raised here have made a huge difference to the sustainability of this small charity that receives no direct government funding.
It is my belief that these funds will help to create the environment in which someone, somewhere can develop a cure which spares other families the anguish and the pain associated with this disease.
Please raise lots of money. Every penny counts, and brings a cure that little bit closer.
Thank you
Graham Kennedy